Croatia, with its stunning coastline and crystal-clear waters, has become an increasingly popular destination for beach lovers. From famous sandy stretches to hidden gems, the country boasts a multitude of sun-kissed delights just waiting for you to discover. Whether you're seeking relaxation, adventure, or simply a tan to brag about back home, Croatia's beaches have got you covered.
As you meander along the Adriatic Coast, you'll come across breathtaking spots like Zlatni Rat on Brač Island, known for its unique V-shaped pebble beach that shifts with the tide and currents. For those looking to trade footprints in the sand for underwater thrills, the island of Vis offers fantastic diving opportunities. And let's not forget the picturesque beaches of Hvar and Korčula, perfect for those in need of a tranquil retreat.
Top Croatian Beaches
So, you're looking for the best beaches in Croatia? Prepare yourself for the experience of a lifetime and clear your schedule, because once you've read about these enchanting spots, you'll want to pack your bags and plan your seaside vacation in Croatia right away.
Zlatni Rat Beach
If you want to say "cheers" to a jolly good time, Zlatni Rat Beach is your cup of tea. Located on the exotic Brač Island, this intriguing V-shaped beach changes with the tide. Just imagine – basking in the sun on this pebbly piece of paradise as the sea tickles your toes!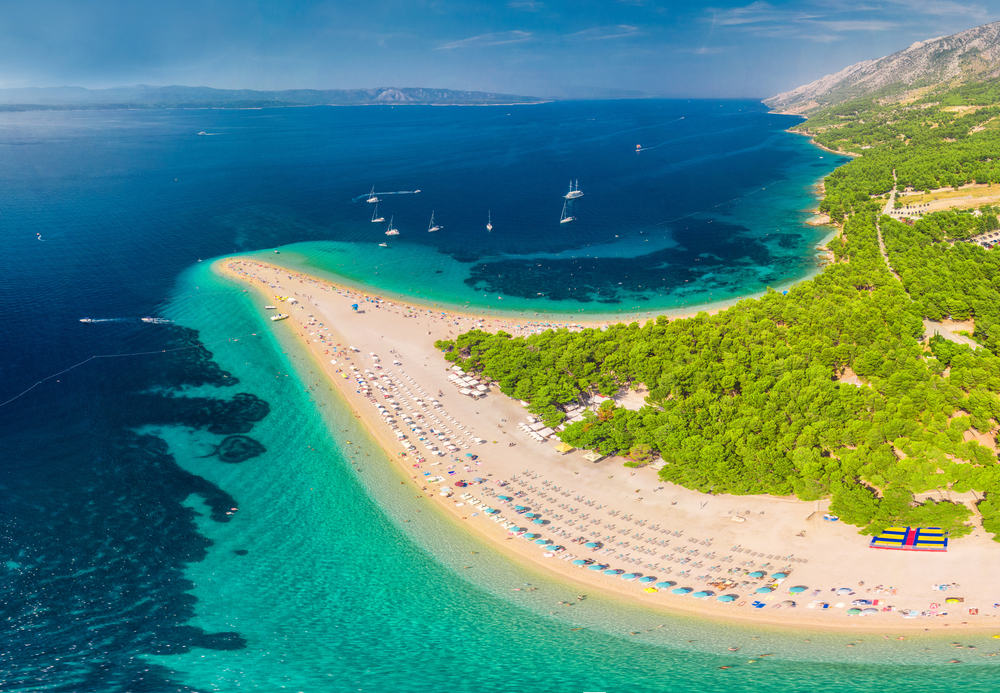 Banje Beach
Next, we have Banje Beach in Dubrovnik. Here, you can enjoy crystal-clear waters accompanied by stunning views of the city's medieval walls. Brush up on your history while you unwind with a refreshing cocktail or two.
Sakarun Beach
If you fancy a bit more seclusion, Sakarun Beach on Dugi Otok is the perfect spot. Accessible only by boat or ferry, this dazzling beach provides all the tranquillity you seek. Let the soft sand and pristine waters rejuvenate your spirit as you enjoy the gentle sound of the waves.
Lovrečina Beach
Grab your beach hat and head over to the charming island of Brač to visit Lovrečina Beach. This picturesque sandy haven offers not only a sensational seaside retreat, but also the fascinating remains of an ancient basilica. Who says you can't mix culture with relaxation?
Stiniva Beach
Now, if you're the adventurous type, Stiniva Beach on Vis Island is just the ticket. Trudging through a narrow passage to access this stunning cove will have you feeling like Indiana Jones. Once you reach this hidden gem, you'll be rewarded with an intimate beach surrounded by dramatic cliffs. Trust us, it's worth the trek!
Beaches for Adventure Lovers
If you're in search of some adrenaline-pumping beach action, Croatia has just the right mix of sandy and pebbly coastlines to keep your heart racing, and Croatia also offers some incredible boat parties if you're looking for a fun-packed party experience.
Let's have a look at some beaches that are perfect for all adventure lovers, shall we?
Dubovica Beach
Tucked away near Hvar Island, Dubovica Beach is where you'll feel as if you've stumbled upon a hidden gem. The stunning turquoise waters make for an irresistible invitation to jump right in. With pebbles underfoot, you might want to do a little dance (or invest in some water shoes) to get there. A remarkable spot for snorkelling and kayaking, this beach won't disappoint your adventurous spirit.
Neviđane Beach
Neviđane Beach on the island of Pašman is your playground for windsurfing and kiteboarding. Don't worry if you're new to these exhilarating sports; you'll find experts in the area to guide you. So go ahead, harness that wind and ride the waves with glee!
Ambrela Beach
Ambrela Beach, often referred to as Hawaiian Beach, graces Pula's coastline with its distinctive charm. Set against a backdrop of fascinating rock formations, this rocky beach offers azure waters that beckon snorkelers and swimmers. Part of the Verudela, Ambrela provides a mix of relaxation and adventure. Sunbathers can lounge on flat rocks while thrill-seekers try their hand at water sports or for those looking for a party experience they can can check out the Boom Boat Party for some fun in the sun!
Bačvice Beach
Bačvice is one of Split's most famous sandy beaches, known for its shallow and calm waters, making it ideal for families with children. The beach is also renowned for its unique game of picigin, a traditional ball game played in the shallow water. With its lively atmosphere, beachside bars, and restaurants, Bačvice is a favourite spot for both locals and tourists seeking a relaxed beach day with a touch of local culture. Split is also home to the the popular Out To Sea Boat Party for those wanting to let their hair down and enjoy a wild time.
Dugi Otok Beach
Ah, Dugi Otok Beach, reachable only by boat or ferry from Zadar. Did we just hear you utter "challenge accepted"? This off-the-beaten-path island is perfect for adventurers like you. The island's Saharun Beach is renowned for its powdery white sand and crystal clear waters – perfect for relaxing after a day of sightseeing or exploring the island's natural wonders, such as the Telascica Nature Park and the Strasna Pec Cave. A little slice of paradise just for you!
Marčana Beach
Last but not least, Marčana Beach has all the makings of an adventure lover's dream. You can choose to explore the Raw Summer Festival while you're there or delve into activities like cliff diving, sailing, and beach volleyball.
Hidden Gems
Mala Lozna Beach
Ah, Mala Lozna Beach – a place where you can truly disconnect from the world and indulge in complete relaxation (and possibly some fish 'n' chips). This pebbly beach offers crystal-clear waters and, if you're lucky, a spot of sunshine to help perfect that tan.
Nugal Beach
A bit of a cheeky destination, this nudist-friendly beach has you feeling free and one with nature (literally!). It's tucked away between rocky cliffs, offering you privacy and a sense of adventure. Good luck finding your way there though, it's a bit of a hidden treasure!
Kraljičina Beach
Kraljičina Beach, also known as Queen's Beach, is perfect for feeling like royalty. Embrace your inner aristocrat with a visit to this sandy oasis. Located in Nin, it's said to have healing mud bathes and therapeutic properties; so a trip to Kraljičina Beach may just leave you healthier too.
Šunj Beach
Put on your walking shoes and make your way to Šunj Beach. Located on Lopud Island, this sandy gem is ideal for frolicking and building sandcastles. The beautiful bay is ideal for a dip, but beware, the water gets shallow, so you might have to wade out quite a bit before a proper swim.
Lubenice Beach
Finally, Lubenice Beach in Cres Island offers you stunning cliffs and deep blue waters. You'll need to hike down there, but trust me, it's worth every step. Might as well get a healthy dose of exercise whilst on holiday, right? So grab your swimsuit and head towards these hidden gems for a beach-hopping experience you won't forget!
Wrapping Up
There you have it! Whether it's unwinding on a sandy stretch, exploring hidden coves, or embarking on thrilling water sports, Croatia's beaches cater to every preference. So, if you're dreaming of an unforgettable seaside vacation filled with sun, fun, and breathtaking landscapes, it's time to pack your bags and set sail for Croatia's captivating coastline.