Ah, Ibiza. The mere mention of its name sends shivers of anticipation down the spine of any self-respecting party animal. And when it comes to planning the ultimate stag do, this legendary island, crowned as the party capital of the world, offers an awe-inspiring and fabulous experience that is second to none. From world-class clubs to gorgeous beaches, Ibiza is the perfect destination for a stag do. But why, you ask? Let's dive in.
Why Ibiza?
Ibiza is not just an island; it's a lifestyle. It's a place where the night never ends, and the party is always on. The island is packed with bars, clubs, and party venues that cater to all tastes and budgets. Whether you're looking for a massive club with famous DJs or a chill bar by the beach, Ibiza has got you covered. The island's nightlife is so extensive and diverse that it's literally impossible not to find something that suits your stag do's vibe.
Where to Stay
Accommodation in Ibiza ranges from affordable hostels to luxurious VIP hotels. For a stag do, consider staying in areas like Playa d'en Bossa or San Antonio, known for their lively atmosphere and proximity to some of the island's best clubs. These areas offer a variety of accommodation options, ensuring you can find something that fits your group's needs and budget.
Where to Party
When it comes to partying, Ibiza is in a league of its own. The island is home to some of the world's most famous clubs, including Ushuaïa, Pacha, and Amnesia. These clubs regularly host events with world-renowned DJs, making them a must-visit for any stag do in Ibiza.
For a unique experience, consider a boat party. These parties offer unlimited drinks, VIP entry to clubs, and a fantastic opportunity to party while enjoying the beautiful waters of Ibiza. Ibiza offers a variety of boat parties, including Oceanbeat, Ibiza Boat Club, and Float Your Boat, each providing a unique experience, from headline DJ appearances to swim stops and water sports.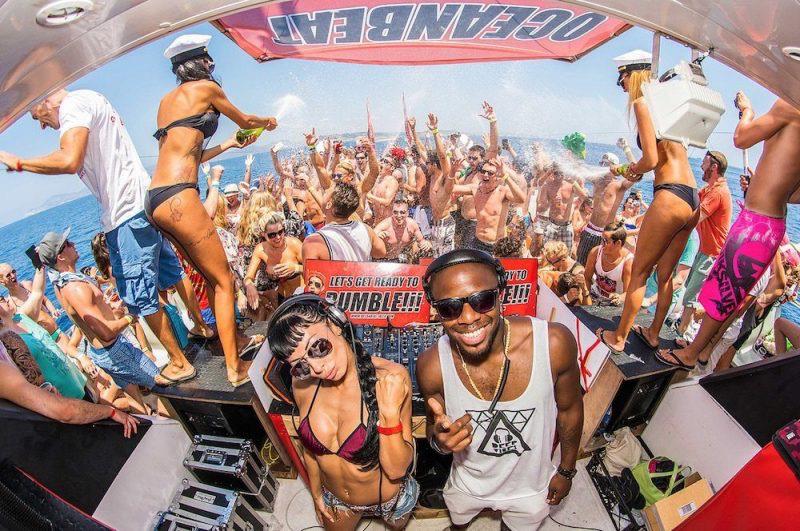 Don't forget to visit San Antonio's Sunset Strip, where you can enjoy a sensational sunset while sipping on a cocktail at iconic venues like Café Mambo and Café del Mar.
Activities Beyond Partying
While Ibiza is famous for its nightlife, the island also offers a range of activities for those looking to do more than just party. From water sports and boat charters to island tours and spa treatments, there's something for everyone.
For a truly memorable stag do, consider hiring a yacht for the day or exploring the island in retro style with a vintage car rental. These activities offer a unique way to see Ibiza and can provide a much-needed break from the non-stop partying.
Conclusion
From its legendary clubs and vibrant nightlife to its beautiful beaches and range of activities, it's obvious why Ibiza is the perfect destination for a stag do. Whether you're looking to party hard or relax and enjoy the island's beauty, Ibiza offers an unforgettable experience that will make your stag do one for the books. So pack your bags, gather your mates, and get ready for the ultimate bachelor bash in Ibiza.