Nestled in the southernmost corner of the captivating island of Corfu, Kavos has swiftly evolved into an irresistible magnet for adventure aficionados eager to unearth the breathtaking beauty of Greece.
Graced with unblemished beaches, shimmering waters, and undulating hills, Kavos extends an extraordinary cornucopia of experiences to satiate the wanderlust of every type of globetrotter. Whether you have an insatiable appetite for outdoor escapades or an unquenchable thirst for cultural immersions, Kavos has it all.
Kavos Excursions
For those whose hearts race at the thought of venturing into the great outdoors, Kavos is a veritable treasure trove of exhilarating adventures. Embark on a thrilling hike or a leisurely walking tour through the enthralling countryside to uncover secluded beaches, hidden coves, and clandestine spots that would otherwise remain shrouded in mystery.
Kayaking and snorkelling rank high among the favoured activities, granting you unparalleled access to the crystalline waters of the Ionian Sea and the plethora of idyllic beaches that the island boasts.
Should your wanderer's spirit gravitate towards terra firma, fear not, for horseback riding through the verdant hills and dense forests offers a sublime vantage point from which to absorb the mesmerizing beauty of Corfu.
Alternatively, you may opt for a cycling tour along the breathtaking coastline or deep into the island's heart. These tours provide the perfect opportunity to bask in the awe-inspiring landscapes and quaint villages that paint a picturesque portrait of Corfu.
Kavos Booze Cruise
For those who are looking for a party experience and crave an adventure that diverges from the beaten path, you can check out the Kavos Booze Cruise – a one-of-a-kind party experience that will forever be etched in your memory.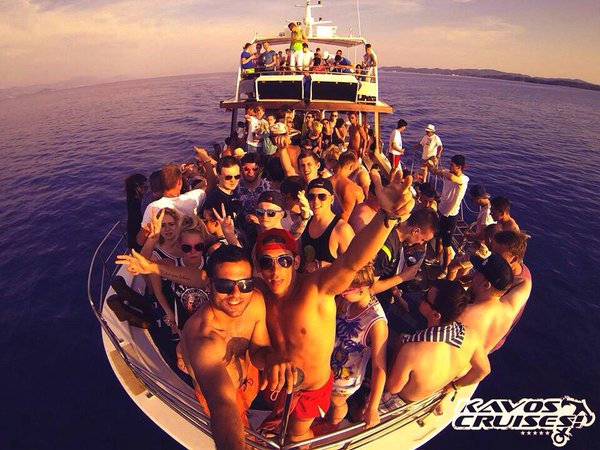 This exhilarating four-hour nautical escapade escorts you along the magnificent Corfu coastline as you revel in camaraderie with fellow party-goers. Immerse yourself in an intoxicating fusion of unlimited libations, live music, and exhilarating games as you bask in the sun's warm embrace and enjoy a drink or two along the way!
Cultural Immersions in Kavos
If your soul yearns for a deeper understanding of traditional Greek culture, Kavos brims with a multitude of cultural experiences to satiate your curiosity.
Traverse through local villages and towns to witness firsthand the rich history and age-old customs that define the Greek people's lives. Relish in authentic Greek cuisine and wine as you unravel the country's fascinating culinary legacy. Delve into historic landmarks and museums to gain invaluable insights into Greece's remarkable cultural heritage.
Accommodation and Transportation
Kavos caters to a diverse range of budgets with its eclectic mix of accommodation options, from opulent resorts to wallet-friendly hostels.
The island also offers a range of transportation choices, including buses, taxis, and car rentals, ensuring seamless navigation across its enchanting landscapes.
In Conclusion
Kavos promises a world of wonder for every traveller, be they adrenaline junkies or culture enthusiasts. With its awe-inspiring natural tapestry, riveting activities, and vibrant cultural heritage, Corfu demands a place on every wanderer's must-visit list. So hoist up your backpacks and set sail for the enchanting island of Corfu.
Whether you find yourself conquering rugged trails, gliding through crystalline waters, or dancing and drinking on the legendary Booze Cruise, rest assured that your Kavos escapade will leave an indelible mark on your heart.
As you embark on this extraordinary journey, let the allure of Kavos and its myriad charms envelop your senses. From the first brush of the gentle sea breeze to the melodic hum of traditional Greek music, the island's magic will cast a spell upon you. The vibrant hues of the sunset reflecting off the azure waters, the mouthwatering aroma of local delicacies wafting through the air, and the warmth of the locals' hospitality will forever be imprinted in your memory.
So heed the call of Kavos – an adventure awaits on the beautiful island of Corfu!