Far from the hustle and bustle of Corfu's main town, 30km to be exact, lies the enchanting and serene haven of Kalami. This picturesque, small settlement presents a dazzling landscape, bound to captivate your senses.
With white pebbles shimmering under the sun and the hypnotic dance of turquoise waters, it's no wonder English author Lawrence Darrell chose Kalami Beach as the muse for his novel, Prospero's Cell.
Blue Flag Beach Bliss
What sets Kalami Beach apart from its counterparts is not just its breathtaking beauty, but also its commitment to cleanliness and organization. As a proud recipient of the prestigious Blue Flag certification, Kalami Beach is in a league of its own when it comes to water quality, safety and environmental management.
Thrill-seekers can embark on adrenaline-pumping water sports, including kayaking, paddle boarding or snorkelling. Those craving relaxation can soak up the sun on comfortable sunbeds or find shade beneath umbrellas for rent.
Nature's Nirvana
Lose yourself in the lush embrace of verdant forests and vibrant vegetation that envelop Kalami Beach. For nature lovers, this idyllic location offers a plethora of accommodations nestled among the trees, creating a tranquil and rejuvenating atmosphere.
A Gastronomic Odyssey
Kalami Beach caters to more than just nature enthusiasts. Food connoisseurs will rejoice in the variety of local cuisine offered at the numerous restaurants and taverns sprinkled throughout the area. Feast on succulent seafood, sizzling grilled meat, and traditional Greek dishes, all while soaking in the mesmerizing view of the beach and the sea.
Ancient Roots and Mythical Explorations
Delve into the rich history of the nearby villages and towns that brim with ancient Greek culture and mythology. History enthusiasts will find themselves transported to a time long past as they explore the captivating stories that have shaped this region.
Party Paradise Meets Kalami Beach
Looking for the ultimate party experience on the water? Well, buckle up, because the Kavos Booze Cruise could turn your vacation into an unforgettable fiesta. And one of its highlights is a stop-off at the mesmerizing Kalami Beach.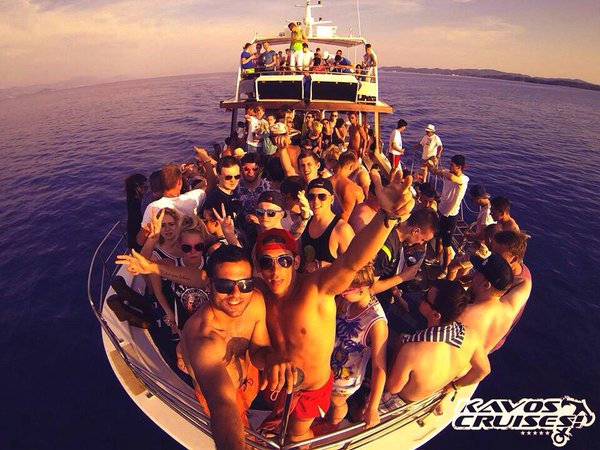 This unique fusion of the unbridled energy of the cruise and the serene beauty of Kalami provides a much-needed break from the pulsating beats, giving you an opportunity to catch your breath and recharge. 
After you've soaked up the sun and revelled in the tranquil splendour of Kalami Beach, it's time to hop back on board the Kavos Booze Cruise and get ready to party like never before.
The Kalami Conclusion
In the end, Kalami Beach presents a treasure trove of unforgettable experiences. Whether you're seeking a serene retreat nestled in nature, an adventure-packed holiday, or a culinary journey through Greece's finest, Kalami has it all. So, pack your bags and prepare to uncover the unspoiled paradise that awaits at Kalami Beach, Corfu's hidden gem.