Alright, all you sun-kissed party seekers, buckle up for the ride of your life. Tenerife is about to rock your world with some of the most legendary pool parties on the planet. Yeah, I know what you're thinking: with so many options, how the hell do you pick the best one? Well, fear not, my friends, because we've combed the island to bring you the cream of the crop when it comes to aquatic debauchery.
Just imagine yourself sprawled out on a sunbed, sipping a kickass cocktail, surrounded by stunning eye-candy, and taking in the jaw-dropping vistas of Tenerife. Sounds pretty damn epic, right? So, slap on that swimsuit, lather up with sunscreen, and get ready to dive headfirst into the wildest, most unforgettable pool parties you'll ever experience.
#1 Kaluna Beach Club
Tenerife's got a little slice of paradise that's gonna blow your freakin' minds. It's called Kaluna Beach Club, and it's where the island's wildest, most memorable pool parties go down – all while basking in the laid-back vibe of a stunning, ocean-view backdrop.
So, what makes Kaluna Beach Club the epicenter of kickassery? For starters, they've got the sickest beats in town. Their pool parties are a non-stop fiesta of dope tunes, thanks to the island's hottest DJs spinning house, techno, hip hop – you name it. There's never a dull moment on the dance floor, that's for sure.
But don't be fooled by the high-octane jams; Kaluna Beach Club is all about that chill, feel-good atmosphere. You won't find any of that uptight, frantic energy like at other Tenerife party spots. Nah, this is where you can let your hair down, soak up the sun, and just enjoy the hell out of life.
And you know what? We've got an extra cherry on top for you. When you snag a VIP Tenerife Boat Party ticket, you'll also score a free pass to one of these legendary Kaluna Beach Club pool parties. Yeah, you read that right – double the parties, double the fun, and no extra cost.
#2 Hard Rock Hotel Tenerife – Rockin' Lagoon Parties
Get ready to rock the hell out, because the Hard Rock Hotel Tenerife is straight-up killin' it with their insane lagoon parties down in the south of the island. With three badass pools, a floating DJ booth, and swim-up bars, this beachfront oasis is the ultimate playground for those looking to let their hair down and go wild.
What makes this place truly badass? The Hard Rock Hotel Tenerife is all about giving you a mind-blowing experience. Live performances, VIP areas – you name it, they've got it. And with a killer seawater lagoon as the backdrop, you can soak up the sun, sip on a frosty beverage, and bask in those killer ocean views. So, whether you're there to dance your ass off or just chill with your crew, this is the spot to be.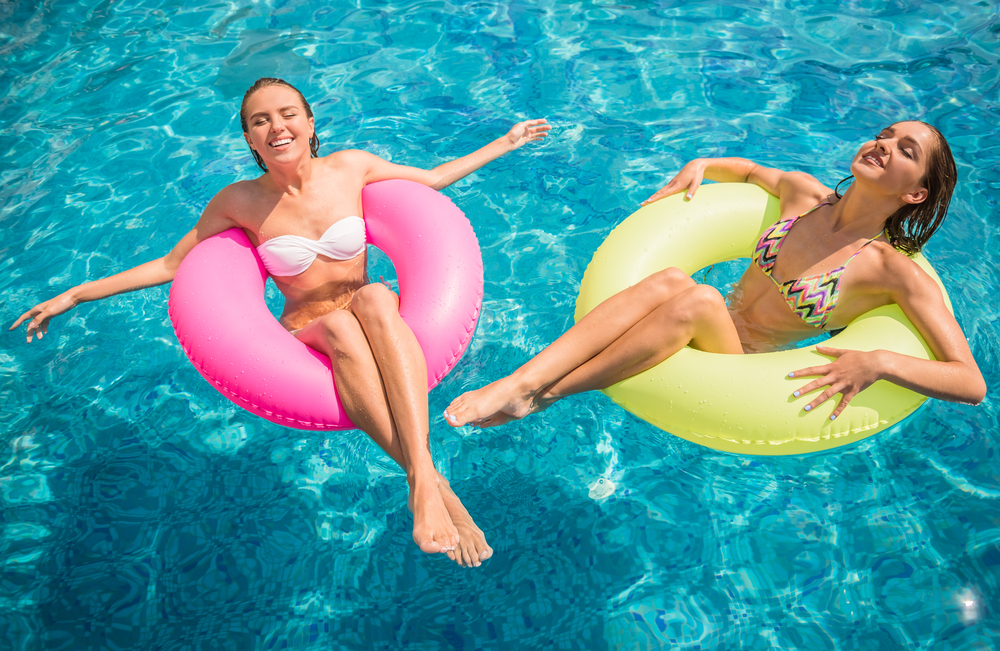 #3 Utopia Pool Party – Monkey Beach Club Magic
The Utopia Pool Party at Monkey Beach Club in Tenerife is where you need to be if you're after that ultimate pool party experience. Gorgeous ocean views and a chill vibe make this spot the perfect place to soak up some rays and dance until you drop.
Happening on select dates throughout the year, Utopia Pool Party features some of the island's hottest DJs and performers, with a killer mix of electronic, house, and everything in between. It's a music lover's dream come true.
But what really sets this party apart is its laid-back, welcoming atmosphere. None of that chaotic party scene – just good vibes and friendly faces. So, whether you're a seasoned party animal or just out for some fun, there's something for everyone.
The Final Word
In a nutshell, Tenerife is a party paradise for those looking to bask in the sun and dive into the pool party scene. With a variety of kickass venues, each offering its unique vibe and atmosphere, there's something for everyone.
Whether you're hunting for a wild, high-energy bash or a chill, laid-back affair, Tenerife's got it covered. From the jaw-dropping Utopia Pool Party to the trendy Kaluna Beach Club, the possibilities are endless.
No matter where you end up, these Tenerife pool parties guarantee an unforgettable time. Top-notch tunes, tasty cocktails, insane views, and an unbeatable atmosphere make these bashes the ultimate way to kick it with friends.
So, what are you waiting for? Pack your bags, grab your swimsuit, and hit up Tenerife for the pool party experience of a lifetime. Trust me, you won't want to miss it!