Have you ever been to Ibiza? It's one of the most beautiful places on earth, with so many amazing beaches to choose from. But if you only have time to visit one beach while you're there, then Cala Bassa should definitely be near the top of your list.
Located on the west side of Ibiza, just a short drive from the town of San Antonio, Cala Bassa is one of the most popular beaches on the island. It has everything you could want in a beach including a sandy shoreline surrounded by rocks, crystal clear water and even a pine forest hiding it from the rest of the world.
Discover the Beauty of Cala Bassa's Turquoise Waters
The water at Cala Bassa is seriously breathtaking. It's an amazing shade of turquoise blue that you rarely find. The water is so clear that you can see all the fish swimming around you even when you're just standing in the water.
If you love being in the water, Cala Bassa is definitely the place for you. Whether you want to go for a swim, dive, or snorkel, the crystal clear waters of Cala Bassa are perfect for all kinds of water activities.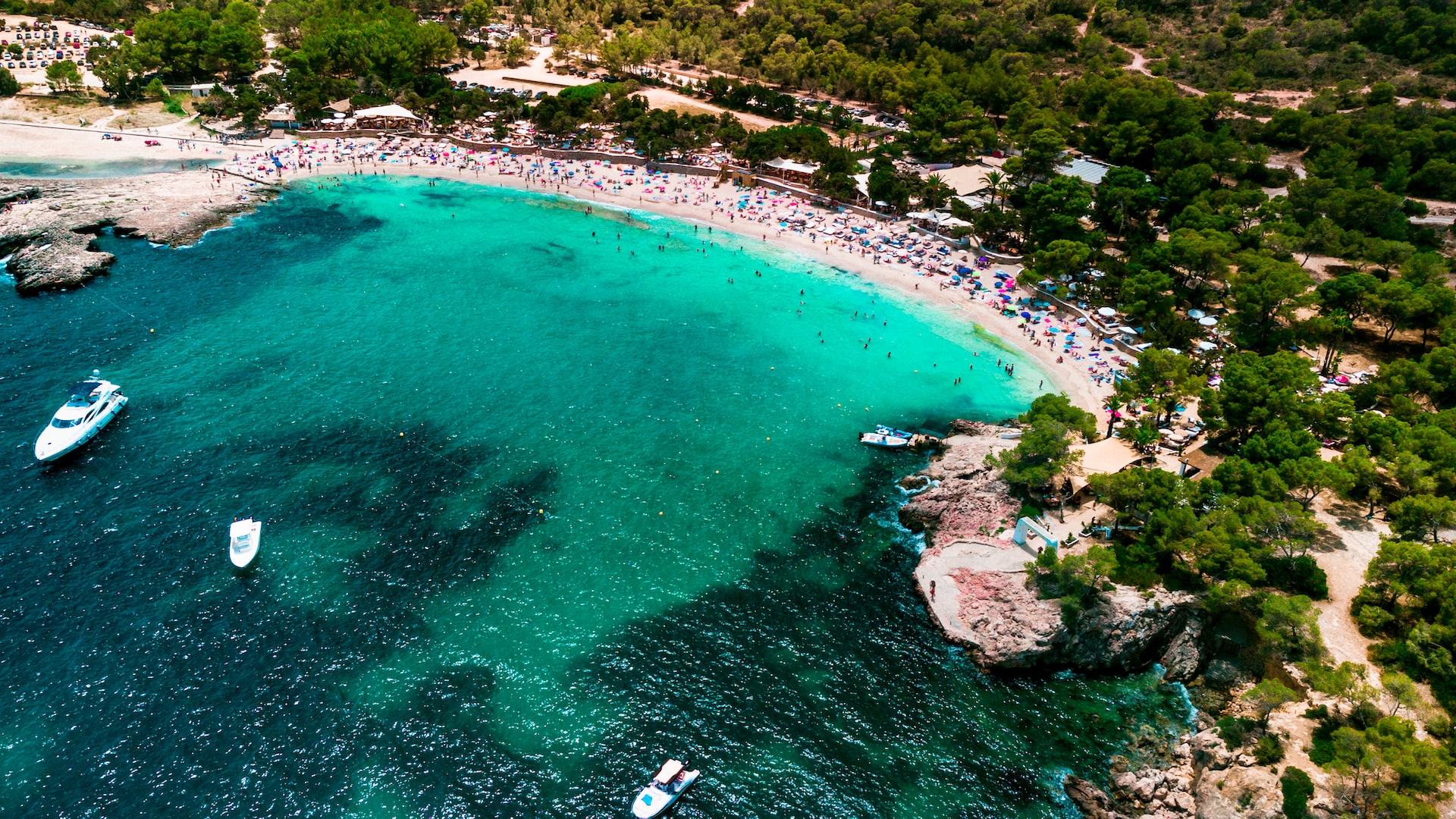 Experience the Adventure of Diving in Cala Bassa
Cala Bassa is also an amazing place if you fancy a bit of diving. If you're a seasoned diver, you'll definitely want to check out the numerous caves in the area around the cove. And if you're a bit of a novice when it comes to diving, fear not. There are several companies around the beach that rent out equipment and offer diving lessons.
Relax and Unwind at Cala Bassa's Sandy Beach
If you're just looking to relax and soak up some sun, Cala Bassa's sandy beach is the perfect spot. It's not a huge beach, but it's got plenty of room to spread out and enjoy the sunshine. And if you don't want to be in the sun all day, the pine forest can always provide you with some shade.
You don't have to go far if you want a bite to eat or a cheeky drink either. The beach has a few places where you can enjoy a quick snack or some rehydration making it the perfect spot to kick back and unwind.
Explore the Pine Forest and Marine Caves of Cala Bassa
In addition to its beautiful beach and clear waters, Cala Bassa has other unique offerings. The pine forest surrounding the beach is a great spot for a leisurely walk, and the marine caves on the rocky side of the cove are a must-see. If you're only there for the day then it's definitely worth taking some time to explore the area and discover all the hidden gems it has to offer.
Take in the Stunning Views from Cala Bassa's Small Island
If you're feeling adventurous, you can even walk over to a small island at the end of Cala Bassa's beach when the tide is low where you will find some absolutely breathtaking views.
You'll get to see the entire beach and the surrounding area from a whole new perspective. And who knows, you might even find some more hidden caves or marine life to explore while you're there.
Experience the Ultimate Boat Party at Cala Bassa
Cala Bassa is a great location to relax and unwind, but what if you're also looking for a bit of a party as well? Look no further than Float Your Boat! This popular summer boat party takes guests on a stunning three-hour cruise with music from top international DJs and Ibiza residents.
Departing from San Antonio it includes the boat party, some free drinks onboard and top DJs. There is also an option that includes a free bus to and from Cala Bassa to the meeting point making it easy to switch from rest and relaxation to a high-energy party atmosphere!
Convenient Access to Cala Bassa by Car or Bus
Getting to Cala Bassa is super easy, no matter how you choose to travel. If you have a car, there's a small car park right next to the beach. And if you don't have a car or don't want to worry about driving, there's a bus from San Antonio that drops you off at the entrance to the beach.
It's only a 20-minute drive from San Antonio, so it's not too far out of the way. Plus, once you're there, you'll find plenty of amenities like sun loungers and umbrellas for rent.
Overall, Cala Bassa is a must-see beach in Ibiza for anyone wishing to fully immerse themselves in the island's offerings. So if you're in Ibiza then you should definitely make some time to visit this wonderful beach and everything it has to offer.