What's up, boys! Do you need some fantastic ideas for a stag do in Barcelona in 2023? look no further, we've got you covered. Here is out list of the top 10 things you could be doing to make your stag do in Barcelona absolutely epic!
#1 Booze Cruise
Alright lads, listen up! If you're planning a stag do in Barcelona for 2023 and you want a party that'll have you talking about it for years to come, you gotta check out the Barcelona Booze Cruise. This boat party has been going strong since 2007 and it's a must-do if you're visiting Barcelona in the summer. They'll take you on a wild ride on the Mediterranean, with drinks included!
But it doesn't stop there, once the boat party is over they'll hook you up with discounted VIP access to some of the best clubs in the city, like Pacha, Opium, and Catwalk. So you can keep the party going all night long.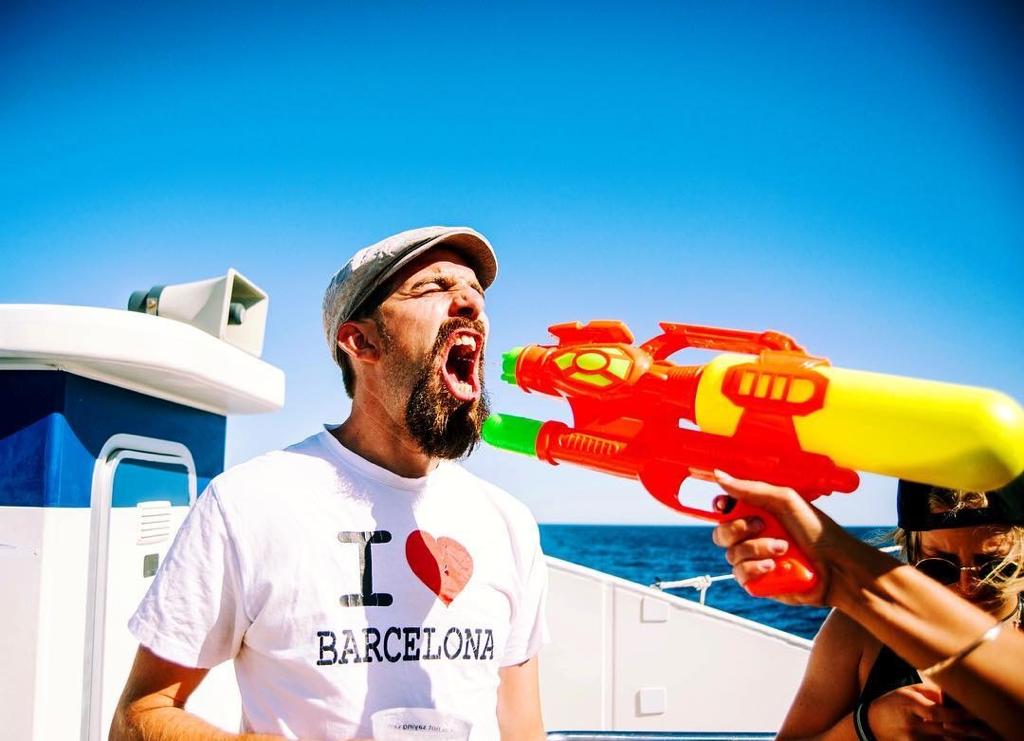 #2 Axe Throwing
Axe throwing is a blast and a great alternative activity for a stag do in Barcelona. So if you fancy throwing axes like real Vikings, go on down to Barcelona Axe Throwing. You'll get a quick safety briefing and demonstration of the fundamentals of axe throwing and then it's over to you! You can pick from a variety of axes, including the classic Gipuzcoan axe or the state-of-the-art Canadian Tomahawk.
Once you've got the hang of it, you'll be using targets to train, play and compete with your buddies. It's like darts but with axes and a hell of a lot more exciting.
#3 FC Barcelona Match
If you're a bit of a football fan then why not plan your stag weekend around an FC Barcelona game? Seeing this famous club play in front of a packed Nou Camp is an experience like no other. Imagine the roar of the Catalan crowd, the excitement of the match, the epic goals and the thrill of victory!
If there's no match when you're in Barcelona then fear not because a tour of this historical stadium is the next best thing. You'll get to visit one of the world's most famous stadiums up close and personal, plus get a glimpse into the club's past and present. The locker rooms, press box, and tunnel leading out to the field will all be open for you to explore.
#4 Paintball
If you're looking for a good laugh and some friendly competition, paintball is the way to go. Grab your friends and head out to Barcelona Paintball to enjoy a great time. Keep your wits about you, though, because once the paint begins flying, it's every man for himself.
Interested? Check out Barcelona Paintball where you will spend up to 3.5 hours there, and you can even stay for a bite to eat. It's a terrific way to have a bit of banter with your friends, laugh, and let off some steam. Make it a tournament if you're feeling competitive, and watch who comes out on top.
#5 Go-Karting
If you want some friendly rivalry on your stag do in Barcelona, go-karting is the way to go. Imagine you and your buddies revving motors and racing around the track; it's a stag do must.
Go-karting is a terrific opportunity to have a laugh with your mates, and if you're feeling competitive, turn it into a tournament, place some bets, and see who comes out on top. Go-karting is a great way to start the day or evening before hitting the town for a few beers (or a lot of beers!). Do you want to go karting in Barcelona? Take a look here.
#6 Bubble Football
Bubble football is a one-of-a-kind activity that guarantees laughs and a great experience. The game is similar to regular football, but far more enjoyable and less serious.
You'll be sprinting around in enormous inflated bubbles, smashing and rolling over the field, trying to score a goal. Even if you aren't big football fans you're guaranteed to have a laugh or at the very least an experience that you will never forget!
#7 Beer Tasting
From traditional lagers to zesty IPAs, Barcelona's local beer variety has something for everyone. It's the perfect location if you want to conduct a little beer tasting while on a stag do. Keep it casual or go round with a clipboard rating each beer as you taste it.
#8 Steak and Stripper
Alright fellas, if you're looking for a bit of a naughty night on your stag do in Barcelona why not have a steak and stripper. Yes, that's right, you can enjoy a tasty dinner and a stunning stripper comes as part of the package.
Steak and stripper nights are super popular in Barcelona and a quick search will find many different options on offer. So your only decision is which one to choose!
#9 Beach Games
Barcelona has some great beaches, and beach games are a great way for any stag party to have some fun after a long night out. It's also perfect for those looking for some lighthearted competition. Try out volleyball, ultimate frisbee or have a beach football tournament on some of Europe's most stunning coastlines. 
#10 Escape Room
If you're looking for a bit of a brain teaser on your stag do in Barcelona, then you gotta check out the escape rooms. It's a unique and exciting activity that will keep you and your mates on your toes as you try to solve the enigmas and puzzles of the game.
Escape Hunt Barcelona is a great venue for a stag do, offering 6 game rooms and 3 different mysteries to play. It's perfect for large groups, and can accommodate up to 34 players playing simultaneously and 68 players if you add the activity "Hall Escape" from "La casa maldita".
Once you're locked in the room, you and your mates have one hour to solve the clues and puzzles to escape the room. It's an awesome experience that you won't regret!
In conclusion, Barcelona is one of the top destinations for a stag do in 2023. From axe throwing to escape rooms, there's something for everyone to enjoy. Whether you're looking to bond with your mates, enjoy a few beers, or just have a good laugh, Barcelona has got you covered.