Take a balmy summer in one of Europe's coolest party destinations, add some of the world's most hip DJs and non-stop banging tunes, throw in a fully stocked bar then set sail on crystal clear waters and what do you get? The ultimate boat party booze cruise of course! And when it comes to a booze cruise, Barcelona, Kavos and Magaluf have to be the supreme destinations. Here's why booze cruising has to be top of the list for all you party loving people out there!
Planning a stag do? Organising a hen party? Something to celebrate? Or maybe you fancy letting your hair down and partying like never before just for the sake of it?! Whatever your motivation, a booze cruise is an experience you'll never forget, the highlight of your holiday.
Here's the lowdown on booze cruising in our pick of Europe's trendiest party destinations: Magaluf, Kavos and Barcelona.
Magaluf booze cruise
The Magaluf Sunset Booze Cruise is a best-selling award winning boat party, and when you discover what it's all about you'll be in no doubt why.
This is a £5 million 350-capacity super-yacht, purpose built for the party-at-sea scene and jam-packed with everything you could ever think of when it comes to fun, fun and even more fun in the sun. From CO2 and confetti cannons to the explosive Holi Paint rainbow powder party, a swim stop in the glorious Med and banging tunes courtesy of live internationally renowned DJs who know just how to keep the massive dance floor buzzing non-stop, a Magaluf booze cruise is THE place to be this summer.
The onboard pay-bar is fully stocked with stacks of beers, spirits and mixers, sangria, cocktails and shots, plus there's free fresh fruit and pasta salad all-round too to keep you going.
Magaluf booze cruising is just so good you'll never want it to end. But wait – it doesn't, not just yet! Included with your Sunset Booze Cruise ticket is the legendary Shipwrecked after party at Lineker's Bar PLUS free entry to one of the best venues on the Magaluf clubbing scene AND to the infamous champagne pool parties at one of the resort's top beach clubs. One word – amazing!
Booze Cruise Barcelona
If you love a splash of Mediterranean scenery, and let's face it, who doesn't, then the Barcelona Boat Party booze cruise is going to be right up your street.
Sailing along a scenic route of the Catalan capital's stunning coastline, the double-decked purpose built 140-capacity party boat sets to sea every Thursday and Saturday, taking with it Europe's wildest party lovers, and that means you!
Things kick off in style with a warm-up pre-party, then once you're onboard it's inclusive beer and sangria all the way, live DJs and VIP entry to the best Barcelona clubs like Opium, Catwalk and Pacha, and that's for the full duration of your stay. So the party vibe continues till it's time to jet home! So if you're looking for a European booze cruise, Barcelona has got to be a top contender!
Kavos booze cruise
Kavos… heart melting scenery, sun-drenched sands and sparkling seas. Oh and how could we forget… the biggest party scene the Greek islands have ever known!
A Kavos booze cruise is an experience you'll remember forever, and for all the right reasons. For the blasting sounds from the DJ's decks. For the swim stops in the crystal waters of the blue lagoon. For the exclusive private beach BBQ at heavenly Kalamas and the ice-breaker games and the chill-outs on the sand. And ultimately for the 'rave in the cave', the best way to end a fabulous day.
This is an epic 6-hour boat party with a fully-stocked pay bar, live DJs and MCs, a colour party and BBQ beach lunch all included. And we promise you'll be surprised at just how much value for money you're getting. Seriously surprised!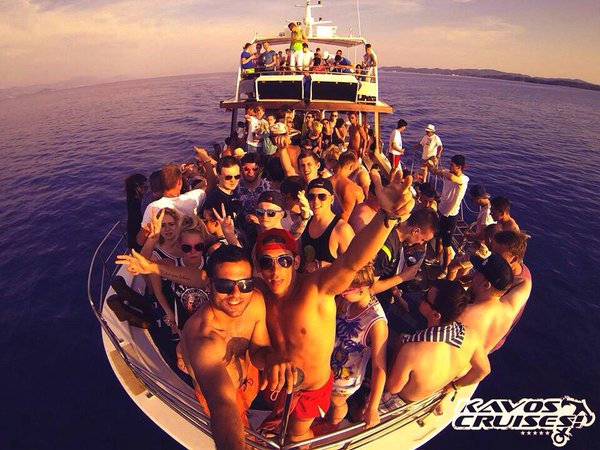 Get your Barcelona, Kavos and Magaluf party cruise tickets from Boatpartytickets.com!
It's so easy – and safe – to book your Barcelona, Magaluf and Kavos booze cruise tickets in advance with Boatpartytickets.com! These are super quality boat parties at the BEST prices you'll find anywhere. Remember, book early to avoid sell-outs, especially if it's a stag or hen do you're in charge of organising!
Early Bird tickets, group discounts, VIP passes and special offers including online booking discounts are all on offer, so book now!