When it comes to boat parties, Ibiza has to be the ultimate wild and wonderful destination. And what better than a daytime Ibiza boat party to really make the party atmosphere last ALL day?!
Summer is here and the buzz of Ibiza is calling! And what would an Ibiza getaway be without a thrilling boat party to top it all off? Casting out into the sparkling Balearic waters and cutting loose under the blaze of the Mediterranean sunshine is a pure indulgence you so deserve. So sit back and relax whilst we take you on a journey of discovery, showing you just what a daytime Ibiza boat party is like, and why when it comes to daytime boat parties, Ibiza is THE destination everyone's longing to add to their holiday wish list!
Where do Ibiza boat parties set sail from?
For a boat party, Ibiza is truly the ultimate destination, and super-chic Playa d'en Bossa is one of the most popular spots where the coolest boat parties set sail from. With infinite white sands, miles of chill-out space, sleek beach bars with Bali beach beds, fab food and laid-back sounds from hit DJs, it really is the holiday island dream. Other popular launch sites include trendy San Antonio and hip Ibiza Town.
What's the timetable for a daytime boat party in Ibiza?
Oceanbeat Ibiza is one of the most sought-after daytime boat parties Ibiza is famed for. And it's a whopper too, currently the largest boat party vessel in all Ibiza at 300-capacity.
Oceanbeat leaves Playa d'en Bossa pier at 13:30 and there's no time wasted in kicking off the entertainment and frivolity as the biggest EDM, Balearic and mainstream house sounds of right now boom over the decks.
A non-stop four-hour daytime cruise, Oceanbeat returns you back ashore around 17:30, ready to continue that party vibe till midnight. This is where everyone hits Bora Bora for the all-in after party. It's one of the island's most legendary beach clubs where dancing on the sand as the sun sets over the rippling waves is how it's done. It's all included in your boat party ticket, as are THREE entries to Ibiza's coolest night clubs or hottest pool parties. What a deal!
Other Spanish island boat parties have different timetables, but Oceanbeat is the earliest departing for the ultimate daytime extravagance.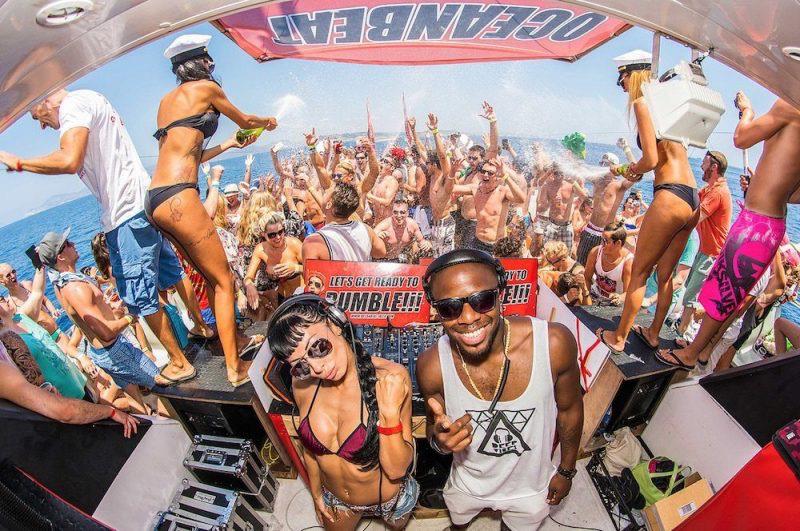 So, tell me more about Oceanbeat Ibiza!
Once onboard Oceanbeat Ibiza you're in for a stint of superb daytime entertainment courtesy of international guest DJs, sexy swimsuit-uniformed dancers, an open air dancefloor and a laid-back chill-out zone. And that's not all!
Take advantage of the unlimited open bar and fill your cup with your favourite tipple, or raise your glass and get ready for the super-bubbly infamous champagne shower. A swim stop gives you the chance to dive in, cool down and move all the fun into the refreshing crystal waters of the Med. Free merch and goodies for all top everything off perfectly.
With so much on offer, it's so easy to see why Oceanbeat won the Tripadvisor Traveller's Choice Award in 2019, and why it ranks amongst the island's most talked-about Ibiza boat parties of all time.
Oceanbeat sounds great, but what other Ibiza boat parties are there?
Other boat parties Ibiza is renowned for include Lost in Ibiza Boat Party, Float Your Boat Ibiza, Pukka Up Boat Party Ibiza and, if you're more a night owl than a daytime party animal, the Cirque De La Nuit Boat Party Ibiza.
Different times, packages and cast-off destinations apply so check them all out right here on our boat parties Ibiza menu.
Get your Oceanbeat boat party Ibiza and other boat party tickets from Boatpartytickets.com!
So many packages, so many unbelievable Ibiza boat party deals! Check out what's included, view the prices and select the option that floats YOUR boat! This is an experience you'll never forget and one you're going to start counting the days down to the minute you book.
Don't forget, booking in advance with Boatpartytickets.com gets you peace of mind that you've landed the BEST price for the BEST boat parties Ibiza has to offer! Plus with Early Bird tickets, group discounts, VIP passes and special offers including online booking discounts, there's even more to like!