Magaluf Sunset Heatwave 2023 magaluf's number 1 official boat Experience!
This is not a Magaluf boat party or a booze cruise this is much better! Sunset Heatwave host the best boat experiences in Magaluf! Sunset Heatwave has featured on Magaluf Weekender, Geordie Shore and the Inbetweeners movie. The boat cruise sails several days weekly from April until the end of September.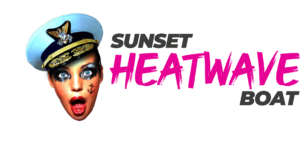 Magaluf's Best Selling Boat Experience
2017, 2018, 2019, 2021 & 2022
Fully Stocked Bar on the Boat
Magaluf's only boat experience which takes place on a purpose built boat for young people with a fully stocked bar. Drinks available to purchase on the boat party include Beer, Spirits & Mixers, Sangria, Cocktails and shots.
Non-stop DJ's and Entertainment
The Magaluf Sunset at Sea DJ's & hosts will get the crowd buzzing on the boat playing amazing summer tunes!
The boat has a massive open air dancefloor, Trampoline net and diving board.
Discounts for Clubs & Events
Amazing discounts are Included with your Magaluf Sunset at Sea Boat 2023 ticket such as discounts for clubs and other events
Live DJ's & Entertainment
Fully Stocked Bar Onboard
(non alcoholic drinks available)
Food Included Lunch & Fresh Fruit
VIP 2 Tier Luxury Boat with 250 Capacity
Live Percussion & Artists
Shipwrecked Evening Event
Avoid sold out boats. Reserve today with a £20.00 deposit to reserve your place on the Sunset at Sea boat and you pay the remaining balance in Magaluf.
Email & SMS Booking Confirmation
Your booking confirmation and the meeting point address is sent to you by email and text as soon as you book.
Collect Tickets & Wristbands In Magaluf
Simply print the booking confirmation or show from your mobile phone when you go to pay the remaining balance and collect your tickets and wristbands from the office at the meeting point in Magaluf.


MAGALUF SUNSET AT SEA BOAT 2023
–
The Sunset at Sea Boat in Magaluf is Magaluf's biggest boat experience for young people as featured on Magaluf Weekender, Geordie Shore and The Inbetweeners movie.
The Sunset at Sea boat Magaluf takes place onboard a £2,000,000 Catamaran the boat cruise has a 250 person capacity just think of the boat as the best club you have been on and now picture it on a boat!
The Sunset at Sea Boat is the only boat cruise in Magaluf that is especially for young adults. Included with your ticket you will get great discounts on other great events and clubs in Magaluf. The boat serves Beer, Sangria, Cocktails and shots of Vodka, Apple Sourz and Sambuca and not forgetting the Champagne sprays.
The boat sails to a famous local swimming spot where we anchor the boat so if you want you can swim or dive into the sea from the onboard diving boards or dance to the DJ's tunes on the massive dance floor.
We get the music and entertainment going to liven up the crowd nothing bad no embarrassing games on this boat and its your choice if you want to join in with the entertaiment there are plenty of things to do if you don't.
The Magaluf Sunset at Sea boat cruise has something for everyone the boat is perfect for a group of mates on a girls or lads holiday or Stag and Hen Do's and couples that like to rave.
The Magaluf Sunset at Sea has been voted the best boat trip for young adults in Majorca for the last 5 years running and is Magaluf's most talked about boat experience.
So what are you waiting for make your 2023 holiday one to remember and book the Magaluf Sunset at Sea boat cruise you won't experience anything like this at home.
When booking we include a Magaluf at Sea 2023 T – Shirt and discounts on other great events and free club entrances to book your tickets you select the date you want to go on the Boat and reserve with a £20 deposit and you pay the remaining balance £45 in Magaluf and this will include your return bus transfer to the boat from Magaluf.
You can also book the boat with our trusted partner Eventbrite.
Boat Meeting Point Magaluf beach.